International Conference on Quality Leadership and Management in the Nuclear Industry
15th FORATOM-IAEA Management Systems Workshop
16-19 July 2018 - Ottawa Canada
Conference venue
Book at the beautiful Westin Ottawa Hotel
Book your room at the beautiful Westin Hotel located in the heart of downtown Ottawa and benefit from special conference rates. Offering a picture-perfect location on the famous Rideau Canal, with some rooms featuring stunning views of Parliament Hill, The Westin Ottawa is perfectly situated to access the conference facilities and steps from shopping, restaurants and sightseeing.  Don't delay, these special rates are limited and allocated on a first come, first serve basis until 15 June 2018. Thinking of spending a few extra days in Canada's capital? These special rates are available from 14 to 21 July 2018 (subject to availability).
The special conference rate (CAD)*, booked through the hotel portal on the MSTF2018.org website is:
Traditional room (single/double):           $189
Deluxe room (single/double):                  $244
Suites (single/double):                              $319 and up
*What is included in the room?
Room rates are based on a one or two person occupancy. Additional occupants will be charged a per person/per day fee of $40 CAD.
Room rates include high speed internet (wifi).
Breakfast, taxes (currently 13%) and fees (3%) are extra.
Parking is available at additional cost ($25/day for self-parking with no in-out privileges, $42 per day for valet parking with in-out privileges)
 How to get there
The closest international airport is Ottawa International, which is around 20 minutes from the hotel by taxi, with fares averaging $34CAD. To find out which destinations fly here, please refer to the airport website directly.
Other airports within a reasonable distance to Ottawa that are serviced by most major airlines are:
If arriving at an airport other than Ottawa, train and bus transportation are available: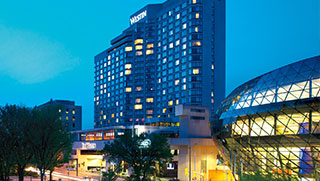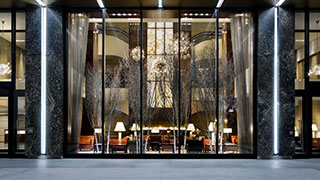 Visa requirements
Visa-exempt foreign nationals need an Electronic Travel Authorization (eTA) to fly to or transit through Canada. Exceptions include U.S. citizens and travellers with a valid Canadian visa. The following website provides some guidance on finding out which requirements apply to your country of origin. There are two ways to apply: online or on paper. If you need help with your application, you can contact your nearest visa application centre (VAC).
If you require an invitation letter for your Visa application, your conference registration must be completed first, including the payment of applicable fees. The request for the Visa invitation letter should be sent to Emilia Janisz at FORATOM. If your Visa application is unsuccessful, your registration fee will be refunded.
For more information about the requirements to enter Canada, please visit the Government of Canada's website.
Useful information
Currency
The Canadian dollar ($/CAD) is the official currency of Canada.
Weather
Ottawa has a humid continental climate.  Summers are generally warm and humid, with an average July maximum temperature of 26.6 °C (80 °F) and lows of around 15°C (59°F).   Given the risk of rainfall during July, participants are advised to bring raincoats and/or umbrella's
Plugs
In Canada the power sockets are of type A (mainly used in North and Central America, China and Japan) and B (ike type A but with an extra prong for grounding). The standard voltage is 120 V and the standard frequency is 60 Hz. More information can be found here
Copyright © 2017 - FORATOM - Avenue des Arts 56 - 1000 Bruxelles Tel: +32 2 502 45 95 - VAT: BE0862.233.493